While wildfires rage, cities burn, and political fury engulfs the short attention spans of national media, something much more sinister has been allowed to happen in American culture.
Yet no one is paying attention!
First, traditional conservatives were sneered for not being a tolerant or accepting society, as more abhorrent behavior was quickly becoming the norm.
Next, academic scholars like Richard Dawkins and Thomas K. Hubbard have been writing papers and giving lectures defending the 'historical roots' of pedophilia.
Rutgers Legal Professor Margo Kaplan penned an eye-raising New York Times Op-Ed in 2014 arguing:
The fact that pedophilia is so despised is precisely why our responses to it, in criminal justice and mental health, have been so inconsistent and counterproductive.

Acknowledging that pedophiles have a mental disorder, and removing the obstacles to their coming forward and seeking help, is not only the right thing to do, but it would also advance efforts to protect children from harm.
TRANSLATION:  Pedophilia is a "Mental Disorder", and not "A Crime."
Then came Dutch researcher Madeleine van der Bruggen's controversial lecture in support of the practice of pedophiles.  According to Dr. van der Bruggen that it is a public and mental health issue.
3% of the male population has some pedophilic interest.

but most people don't act out on it, because they know that it's illegal.  

Although they never act out on it, they will also never ever be able to talk about it to anyone.  Without justifying this, it seems a logical thing to happen.  A shared responsibility for all of us.

Let's acknowledge this problem exists and stop with hate and throwing rocks at offenders' houses.  That is not going to solve this problem!  Let's be a mature society and agree that only when we are open about this topic, people will find the strength to come forward, so we as a society can help.
Hollyweird's Double Standards.
Harvey Weinstein sits in jail. Further, Kevin Spacey is persona non-grata. And Bryan Singer's reputation has been stigmatized. Of course, Woody Allen wears a defacto 'scarlet letter'. Last, but not least, Roman Polanski still lives in exile.
But that has not stopped the entertainment industry's continual exploitation of children.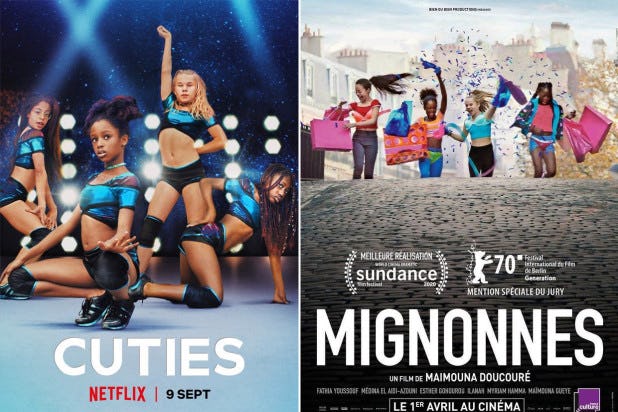 Image Courtesy: Amazon
Warning: This trailer is quite disturbing.
How has the movie industry continued to get away with child exploitation?
As recently reported here, what kind of a parent would sell their children to Netflix for royalties and a little exposure?  Sounds more like pimping than parenting.
Sadly, a 2002 US Supreme Court ruling provided a layer of protection.
ABC News reported at the time:
The Supreme Court ruled that the federal government went too far in its effort to restrict pornography when it found that parts of the Child Pornography Prevention Act was unconstitutional.

In a 6-to-3 ruling, the court decided that a 1996 law which banned computer generated child pornography on the Internet violates the right to free speech because it was too vague and too far reaching.

Writing for the majority, Justice Anthony Kennedy said the law would not only ban computer-generated child pornography on the Internet, but also movies like American Beauty where young adults are depicted as children having sex.

The American Civil Liberties Union said in a press release that the majority opinion "sends a message that Congress may not overstep the boundaries the court laid out in distinguishing constitutionally protected speech from obscenity and child pornography that harms actual children."
How many years did Jeffrey Epstein and Ghislaine Maxwell's antics go unimpeded?  Worse off, there was a long list of VIPs visiting his sadistic Manhattan mansion, his South Florida estate, taking flights on the Lolita-Express, and regularly visited his hedonistic island for years.  This was a well-known open-secret.
Although Epstein is dead and Maxwell is in jail.  No one else has yet to be punished.
Did California Just Legalize Pedophilia?
Recently California State Senator Scott Weiner snuck legislation through the California Legislature.
SB 145 has eliminated automatic sex offender registration for young adults who have anal or oral sex with a minor.  Instead, a judge would make the decision, just as they do now in cases involving vaginal intercourse.  SB 145 would apply only to cases involving minors between the ages of 14-17, and an offender within a 10-year range.
Weiner spoke to KXTV-TV's Zach Fuentes:
Under current law sex with minors is illegal.

But, a judge has discretion to decide if an adult should register as a sex offender after having vaginal intercourse with a minor.

For anal and oral sex, there is no judge discretion, the adult automatically is required to register as an offender.

Members of the LGBTQ community say this is discrimination, as those are their primary ways of having intercourse.

If SB-145 were to become law, sex with minors would still be illegal.

But, a judge's discretion to decide if an adult should register as a sex offender extends to vaginal, oral and anal sex, equalizing the law.

Judges would not be able to have discretion in any case, only ones where the minor is between 14 and 17, and the offender is 10 years older than them or younger.

It also must be the offender's first offense.
.@Scott_Wiener :
I know exactly what the bill does.

Because read it.

You're trying to normalize sex with children.

And I'm not going to let you get away with it. https://t.co/NnvUiXTBkr

— Senator Melissa Melendez (@senatormelendez) September 5, 2020
Moonbeam's 'Signature' of Approval.
In 2017 Jerry Brown signed into law a process to get off Sex Registry now.  This is not for the person who messed up at 19-20; or person who stupidly walked outside naked drunk when a school bus went by; but for the hardcore offenders.
SB 384, another one of Senator Wiener's policies, will allow 90% of California sex offenders to no longer be required to register with law enforcement starting in 2021.
San Francisco Chronicle explained the three-tiered system:
The FIRST tier allowing people convicted of crimes like misdemeanor sexual battery, misdemeanor possession of child pornography and indecent exposure to petition to be removed from the registry after 10 years. Tier one has the largest number of sex offenders, with up to 65,000 people potentially falling into that category.

Those offenders would not all come off the registry at once since a portion of those people would not have finished waiting the mandatory minimum of 10 years on the registry after their release from prison.

The NEXT tier includes people convicted of lewd and lascivious acts with a minor, oral copulation with a minor under 14 years old and non-forced sodomy with a minor under 14 years old. The second tier, which requires sex offenders to register for a minimum of 20 years, has potentially 24,000 people.

Crimes like rape, sex crimes against children 10 and younger, repeated sex crimes and sex trafficking minors, put a sex offender in a third tier that requires them to be on registry for life. THAT tier has an estimated 8,200 people.
TRANSLATION:  The newly passed SB-145, in relation with SB-384, with a cunning lawyer, and an activist judge.
And, YES…when combined, those policies will do exactly what everyone fears.
Heroes or Vigilantes?
Then there was the near-national 'media blackout' of #OperationNotForgotten in Atlanta.  39 young girls, all under age 19, were rescued by law enforcement from sex traffickers.  Yet, the story barely made a whimper in the news media.
Recently the organization 'Operation Underground Railroad' that tracks, lures, and assists in apprehending sex predators has now been labeled "vigilantes" by some law enforcement and 'victims-rights' groups.
Director Tim Ballard spoke to Tucker Carlson:
Not All Are In Support.
Comparing the Pedophiles to the Gay Community is like comparing "Apples to Baseballs".
Yet many pedophiles have been trying to align themselves with the LGBTQ movement, to the disdain of most in the Gay Community.  In fact, some pedophiles have taken up the PC-moniker of 'Age-Fluid'.
The Advocate recently wrote:
After numerous images have circulated on social media in the last few months proposing adding a "P" to the LGBTQ acronym as a means to include "pedosexuals," referring to pedophiles, queer activists are speaking out to confirm that pedophilia has no place in the LGBTQ+ movement — and never has had.

These insinuations are incredibly dangerous, downright false, and have no basis within the LGBTQ+ movement overall. According to GLAAD officials, who spoke to The Advocate via email, two images claimed that the initialism "LGBTP" had been accepted by LGBTQ+ groups. This is entirely untrue.
AFP warned, in July 2019 during Pride Month, alerting people about pedophile groups and their own 'pride flag' might try to crash many of the events.