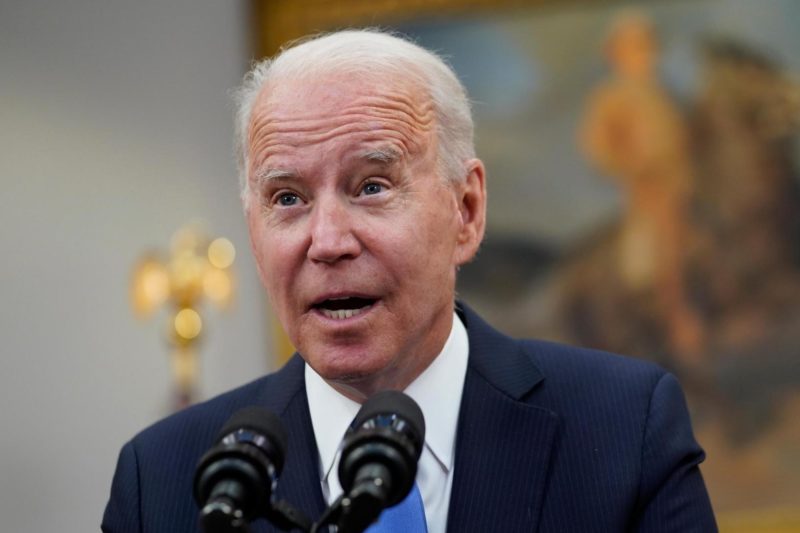 Joey Demento is not having a good month. And Leftists shouldn't expect that to change.
First, the Taliban took turns publicly screwing the old fool, and he left hundreds of Americans behind. And the Taliban supposedly painted their "colors" on the wall of the old American embassy. Sort of a "piss on their new territory" move, the Taliban having deposed Biden in the harshest of terms.
If you think Qaddafi got it bad when he was dragged through the streets, metaphorically Biden's treatment was far worse.
Next, college students chanted, "F*ck Joe Biden" at the first weekend of college football. Not great news for mid-term prospects for Democrats when a key demographic voting bloc shoots the finger to The Big Guy.
Add to this the bad economic report. "Experts" predicted between 377,000 and 750,000 new jobs. However, Team Demento only produced 235,000 jobs and massive inflation.
Put simply, there is no good news for Biden. There hasn't been from Day One of the coup. And it's only getting worse.
Poll numbers continue to drop, so much so even the fake news media recognizes the problem. Rumblings of impeachment and invoking the 25th Amendment may be longshots. Still, those rumors don't bode well for optics.
Now, in the wake of Hurricane Ida, Captain Demento tried to make points by visiting the flooded areas of New Jersey. That didn't go as planned.
As Jon Najarian pointed out in a tweet, the public jeered the feckless clown.
Biden met by jeers and profane signs as his motorcade rolled through New Jersey @potus https://mol.im/a/9966743
https://twitter.com/jonnajarian/status/1435353973343535105
Amazingly, for the man who supposedly garnered almost 82 million votes, there were no Biden supporters.
k-lo tweeted:
No supporters showed up for Biden in New Jersey — but dozens of Trump supporters lined the streets to tell Joe what they thought of him.
https://twitter.com/k_klo224743370/status/1435343203029356545
"You're killing our kids out there, you worthless piece of trash"
"Murderer!"
Those are only a few of the comments yelled at Biden's motorcade.
My personal favorite is the ambulance that was part of the motorcade. I don't think I've ever seen that before. But I understand why they need readily available medical care for the almost 79-year-old brain-damaged clown.
Thanks to all the patriots who greeted Biden during his photo op! You're getting our message across loud and clear.
Maybe when Biden the Bungler finds time, he will try to take credit for the brave Americans who continue working to get our people home from Afghanistan.