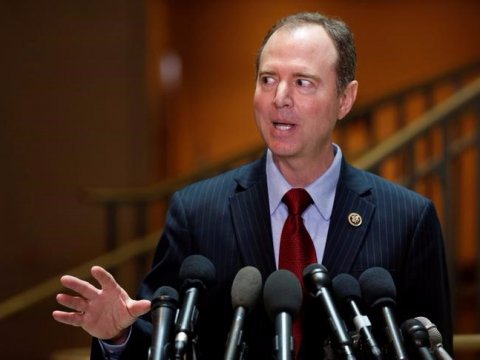 Adam Schiff is at it again. Once again he claims he has evidence against former President Trump in the January 6 farce.
Excuse my skepticism, but Adam Schiff always has "evidence", when it comes to Trump. I'm still waiting to see the overwhelming evidence Schiff claimed to have against Trump in the now completely debunked Russian collusion story.
As for J6, Schiff goes farther. His evidence is reportedly "very powerful". This can only mean that Schiff will be not just hard-pressed to show this evidence, but will be "very hard-pressed" to reveal his evidence.
Not one to limit his hyperbole, Schiff claims that his evidence could allow the January 6 Farce to present charges against President Trump. Sure. Just like the Russian collusion evidence Schiff has failed to produce.
The art of the tease:
As Schiff did for over a year in the Russian collusion lie, he oft repeated the claim of "damning" or "overwhelming" evidence against Trump. Meanwhile, to this day he has yet to produce any. And like in the Russian collusion lie, Schiff commented to reporters:
"And we'll be presenting what we've found. I don't want to predetermine or prejudge the strength of what we will show you. We'll show you what we've been able to determine."
In other words, Schiff has nothing.
Schiff made his comments, despite Trump saying he offered to deploy 20,000 National Guards ahead of the protest. President Trump declared that House Speaker Nancy Pelosi (R-Calif.) rejected his offer.
If this farce were legitimate, Democrats would admit this and end the charade. But they are forced to pretend that an "insurrection" occurred.
Jim Jordan reminded people of Schiff's previous deception:
"Well I don't think we learnt anything new," said Rep. Jim Jordan (R-Ohio). "I mean, we already knew that they want to get rid of the electoral college, they want to make it so that President Trump can't run in 2024…I don't think we learned anything new, even with hundreds of witnesses, thousands of hours of testimony, no ability for Republicans to do any type of cross examination."
Still, some Democrats are on the edge of their seats, waiting for this evidence to materialize. Meanwhile, the rest of the Democrats are well-aware of the farce. They're just hoping they can help make Schiff's claims seem legit long enough to pick their next "winner".