California Leftism is goes stale.
A Twist of Fate.
As reported two years ago, the much hyped Democrat 'Blue-Wave' cost the Republicans control of the House of Representatives in 2018 returning Nancy Pelosi to the Speakership.  California would be the exclamation point as it introduced America to ballot harvesting.
Fast forward to the present, as many Democrat House seats won in 2018 flipped back to 'Red' in a rebuking of the Democrat's hard Left-Socialist's policies.  There was no 2020 Blue Wave despite all of the pre-Election hype to the contrary.
The Associated Press reported:
Blindsided Democrats were all but certain to see their current 232-seat majority shrink after an unforeseen surge of Republican voters transformed expected gains of perhaps 15 seats into losses potentially approaching that amount.

Republicans have been heartened by the House results, which many believe position them for a strong run for the majority in the 2022 elections. They also bolstered their distressingly low number of women representatives from 13 to at least 26, a record for the GOP, according to the Center for American Women and Politics at Rutgers University, and were adding new ethnic minority lawmakers as well.

Democrats went into Election Day with a 232-197 House advantage, plus an independent and five open seats. With some races remaining undecided, it was possible that in the new Congress that convenes in January they'll have the smallest majority since Republicans had just 221 seats two decades ago.
Will California Deliver?
The once-Golden State of Reagan has devolved over the last two decades into occupied hostile deep dark-Blue territory.  There was a glimmer of hope during the March primary, before the Covid statewide lockdowns, that propelled several races to Republican victories.  Once again, it was the Asian conservative women from Southern California leading the way.
With few ballots left to count, Republicans have taken back at least one seat in Orange County and padded their vote lead in other swing districts across Southern California.

In a major win for the GOP, California 48th District Congressman Harley Rouda, a Democrat, conceded to his Republican opponent, Michelle Steel on Tuesday, in one of several hard-fought races in areas that until recently were considered conservative strongholds. Steel remained ahead of Rouda by 2%, or 7,000 votes.

In another tight race in Orange County, challenger Young Kim, a former state assemblywoman, is trying to oust incumbent Gil Cisneros in their rematch for the 39th District. Kim, who won the district's March primary by more than 2,000 votes, currently has a lead of around 4,000 votes, or 1.2% of ballots.

Seen as an underdog competitor to Cisneros, a lottery winner-turned philanthropist and politician, Kim faced a disadvantage in a district where 37% of registered voters are Democrats. Republicans made up 32.5% and independents made up 28.7% of the registered voters in October.

In yet another hotly contested campaign, in northern Los Angeles County, incumbent Rep. Mike Garcia, a Republican, was clinging to a lead of 159 votes over Assemblywoman Christy Smith in the race for the 25th Congressional District, according to the latest data from the Los Angeles and Ventura county registrar offices.

Garcia has pulled slightly ahead of Smith as ballot counting continued.
Yet There Are More…
State Assemblyman Jay Obernolte will be moving on to Congress after securing victory in the California 8th Congressional race.  Darrell Issa is returning to Washington DC after opponent Ammar Campa-Najjar conceded for the second time.  Campa-Najjar's grandfather, Muhammad Youssef al-Najjar, was the PLO mastermind of the 1972 Munich Olympics terrorist attack.
In a repeat of 2018, one of the closest races in the nation is once again between incumbent TJ Cox and challenger David Valadao. However in 2018, it was the other way around with Valadao as the incumbent and Cox was the challenger, with Cox winning the election by over 800 votes.  But this is 2020.
All eyes are still on the race for the 21st Congressional District seat.  Valadao is ahead of Cox by less than 5,000 votes, according to the Associated Press.

In 2018, the election wasn't decided until weeks after the ballots were cast. Cox beat Valadao by just 862 votes.

The 21st Congressional District represents Kings County and parts of Fresno, Tulare, and Kern counties. Thousands of ballots remain to be processed and counted in those counties.

In Fresno County, according to the county's election's page, about 38,340 ballots still to be processed.

According to Tulan county's election's program coordinator, there are about 26,000 still to be processed.

In Kings County, according to the secretary of state's website, there are about 1,500 still to be processed.

In Kern County, according to the county clerk, there are about 143,000 ballots left to process.

However, it's unclear how many of those ballots are from voters who live in the 21st Congressional District.

In addition to the ballots left to process, the counties could also still receive ballots that were postmarked by Nov. 3 and are received by Nov. 20.
Alas, The Reality Check
Currently there are 5.3 million registered Republicans in California, which compared to most states sounds like a tremendously high voter registration count. However this constitutes only 24% of the state's total registered voter base.
California's overall population is slightly under 40 million; the state's Democrats have registered over 10.7 million voters, or 46%.  Even the state's registered Independents/No Party Preference sits at over 5 million (24% as well).  Ironically, California's Independents normally break for the Democrats in the general election due to the 'Jungle Primary' rules.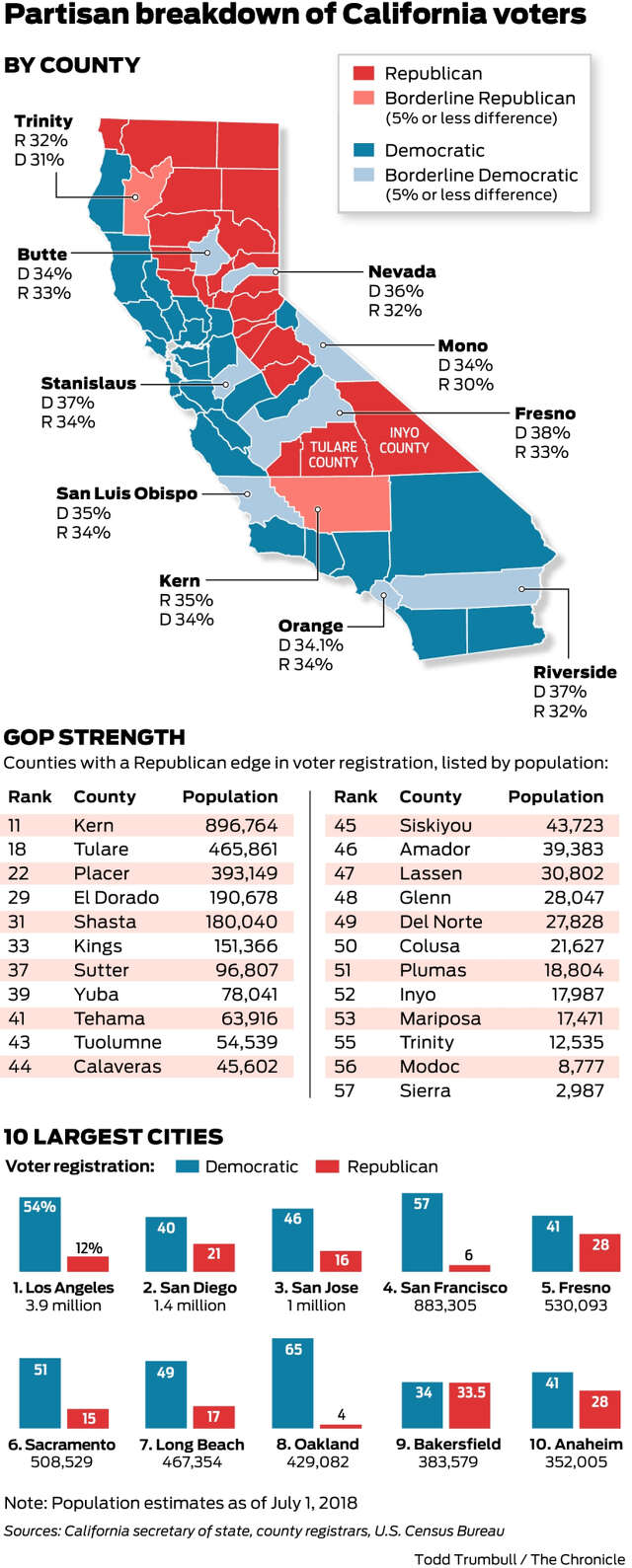 Despite the Hollywood glamour of Los Angeles County and it's 10 million population, which is larger than 43 of the 50 states, the state's political power has always been centered in San Francisco.
Nancy Pelosi.  Kamala Harris. Dianne Feinstein.  Gavin Newsom.  Jerry Brown.  Willie Brown. Tony Thurmond, Eleni Kounalakis, Tom Steyer.  Mark Zuckerberg.  Sergey Brin.  Silicon Valley.  9th Circuit Court of Appeals.  Federal Reserve Bank for the West Coast.  Over 42 Consulate Missions.  Lastly, eight of the most blue-blooded elite families within modern American high society.
All reside and have their power base in San Francisco.
San Jose Mercury News details further:
California is politically lopsided: Most of the people live in the south, but most of the political power is based in the north.

For the last several years, the majority of politicians elected statewide have been northern Californians — including the Governor, Lieutenant Governor, Schools Superintendent and both U.S. Senators.

The dynamic is different for legislative races — where the state is broken into districts with equal populations. Southern California's large population means the region has many representatives in the Legislature. This includes the leaders of both the Senate and the Assembly.

But because of the voting trends, many SoCal lawmakers are elected with fewer votes than their NorCal colleagues. Even though Assembly Speaker Anthony Rendon, who lives in Los Angeles County, is one of the state's most powerful politicians, he was elected by about 89,000 voters in 2016, while several Bay Area legislators got at least 130,000 votes.
As long as that awkward uneven discrepancy remains, radical-Leftist San Francisco ideology will continue to be in the driver's seat of Democrat politics for the State, and country, for the foreseeable future.  Additionally, they have spawned a long bench of activists ready to carry their progressive ideologies into the decades ahead in the 21st century.